PMBOK is Dead. Long Live PMBOK.
Director, Strategy & Consulting
PMI has given a sneak peek into the radical changes coming in the PMBOK® 7th edition, being released on 1 August 2021. The biggest change is a shift from waterfall project management techniques (i.e., "process-based project management") to agile and holistic project delivery methods (i.e., "principle-based project delivery"). This means that PMI will be moving away from organizing project management by process area (e.g., cost, schedule, scope) to focus instead on project performance outcomes (e.g., business value realization through project performance analysis). This change is being driven by the need to be more inclusive of the different ways in which project managers operate, including those whose projects do not align well to waterfall project management techniques (such as software development). As a result, project success recognized by PMI will be measured by the value of the project outcome as opposed to how well the individual processes to obtain the completed project were executed.  
The Project Management Institute (PMI) will be releasing the 7th Edition to its Project Management Body of Knowledge (PMBOK® Guide) on 1 August 2021. While not news in or of itself (PMI releases a new edition every few years), the 7th Edition will present a dramatic shift. Previous editions focused on waterfall project management techniques: a breakdown of project activities into linear, sequential phases where each phase depends on the deliverables of the previous phase and corresponds to a specialization of tasks. While well-suited for the manufacturing and construction industries, this project management technique does not always work well in non-linear industries such as software development. As a result, project managers have historically modified PMI's guidelines to apply different approaches such as predictive, agile, or hybrid techniques depending on their specific project or product needs.  
As the PMBOK® Guide is widely viewed as one of the more influential documents in the project management field, PMI decided there was a need for change. To help support this, PMI decided the 7th Edition should apply to "any project" as opposed to "most projects" by focusing more on principles instead of processes. Instead of the prior PMBOK knowledge areas each having processes, inputs, tools, techniques, and outputs, there will be a shift to principles, that are generally accepted and practiced in project management, with their corresponding outcomes. The purpose of this change is to focus on the outcomes (rather than the deliverables) from project execution that bring value to an organization and its stakeholders.  
A visual summary of changes from the PMBOK® Guide 6th Edition to the 7th Edition is as follows: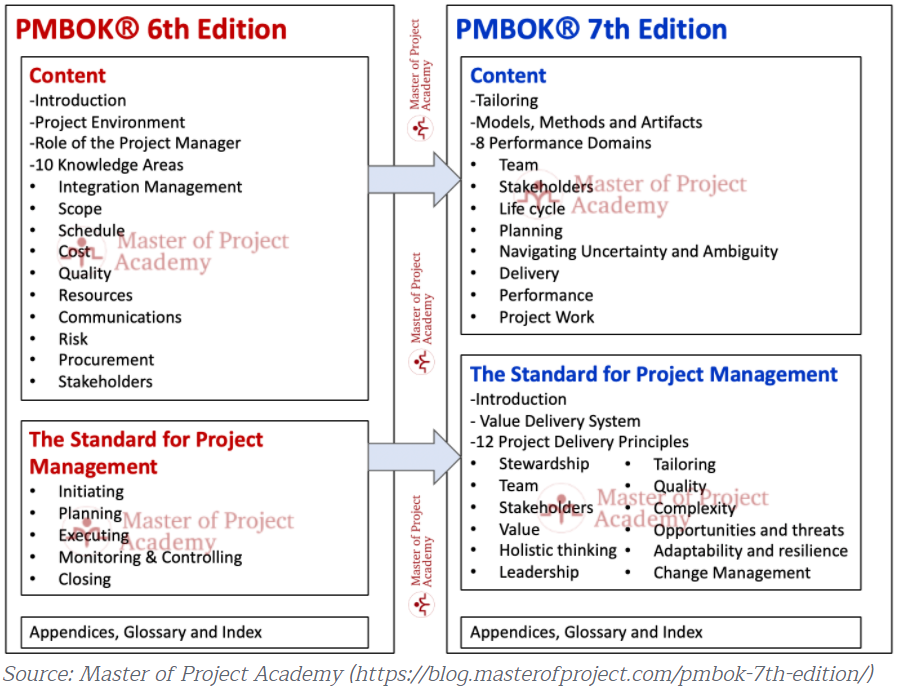 Most Project Managers are familiar with the "Initiating – Planning – Executing – Monitoring & Controlling – Closing" framework shown in The Standard for Project Management section of the diagram above. This process-based approach will be changing to a principle-based approach with 12 Project Delivery Principles supporting a Value Delivery System. The 12 Principles are intended to guide Project Managers and Project Team Members on achieving an intended outcome for their project, while the Value Delivery System will support delivering that intended outcome (based on systems, strategies, missions, or objectives of an organization).  
The Content section of the diagram above represents the standard table of contents for a Project Execution Plan, with introductory sections followed by specific knowledge areas focusing on major project dimensions (e.g., cost, scope, schedule). The new principle-based approach shifts away from this legacy standard to one with performance domains (called Standards Plus™), linked to new interactive content (e.g., articles, videos, audios) whose purpose is to provide useful information about the different models, methods, and artifacts used throughout industry today via a digital platform.  
To re-enforce the notion that teams can produce results using different project management techniques, the 7th Edition is replacing the term "project management" with "project delivery" to signify both deliverables and outcomes.  
What might a project that is "delivered well" look like according to the PMBOK® 7th Edition? As of now, we can only guess. But PMI's Value Delivery System provides a few clues. The 12 Project Delivery Principles encompass the value a good team can bring to a project so that it has a higher chance of being "delivered well." Those principles include stewardship, team, stakeholders, value, holistic thinking, leadership, tailoring, quality, complexity, opportunities & threats, adaptability & resilience, and change management. Collectively delivered, these principles may help projects better achieve their intended outcome as opposed to how well the individual processes to obtain the finished project were executed.  
At Enstoa, we're talking with clients about how these upcoming changes may help them better deliver their capital projects. With our global client reach, we are excited to see how different countries will apply the recommendations coming in the PMBOK® 7th Edition.  
How might your projects be managed differently by implementing the changes coming from PMI? 
In Part II of this blog we will discuss some practical applications and potential benefits of delivering a project utilizing the PMBOK® 7th Edition principles.
Want to make sure you have a solid understanding of what's needed for proper digital transformation? Check out our "Digital Transformation for Leaders" Colonnade course.
---
Author Bio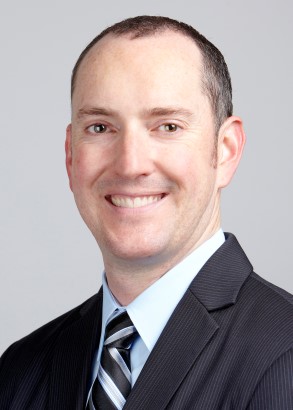 John Jobst, Director of Strategy & Consulting, leads the operations strategy and management consulting service line for Enstoa's global clients. A global architecture-engineering-construction leader with over 20 years of experience, John guides executive teams toward transformation of their legacy projects and portfolios by helping them design a target operating model and transformation roadmap for today's digital world.