Lessons from an intense collaboration project: BIM and Digital Services
Enstoa
Recently I spent seven weeks in the United States working on what is possibly the most intense (and satisfying) project of my career. Previously, I believed that implementing new technologies without short term return was not on the priority list for companies in the AEC industry. In this case, however, the client pushed for new ways to modernize old systems and workflows, which will allow them to stay at the top of the industry as long as they keep thinking forward.
The challenge
Enstoa is a big player in the systems integration industry for capital projects. What you may not know, however, is that we also do a lot of work in advanced analytics, virtual construction, AI, VR and other implementations that are transforming the industry. In this project, Enstoa is working with a large healthcare provider, doing practically all of the above.
As a computational BIM specialist, I became involved with the construction side of the project. We were asked to introduce new workflows to the teams and combine different information sources, including 2D CAD drawings, survey drawings and reports and spreadsheets, into a single and reliable source of truth. Because their buildings are often undergoing improvements, having a single and reliable BIM model is a key future-proofing strategy.
This single source of truth will serve as a unique point of reference for the client and their contractors and, with up to date information on ongoing projects, will make work easier for facilities managers as well. All relevant data will be embedded into the building models, serving as a starting point for advanced analytics. This data, for example, could be used to calculate the maintenance and operations cost of the client's built assets.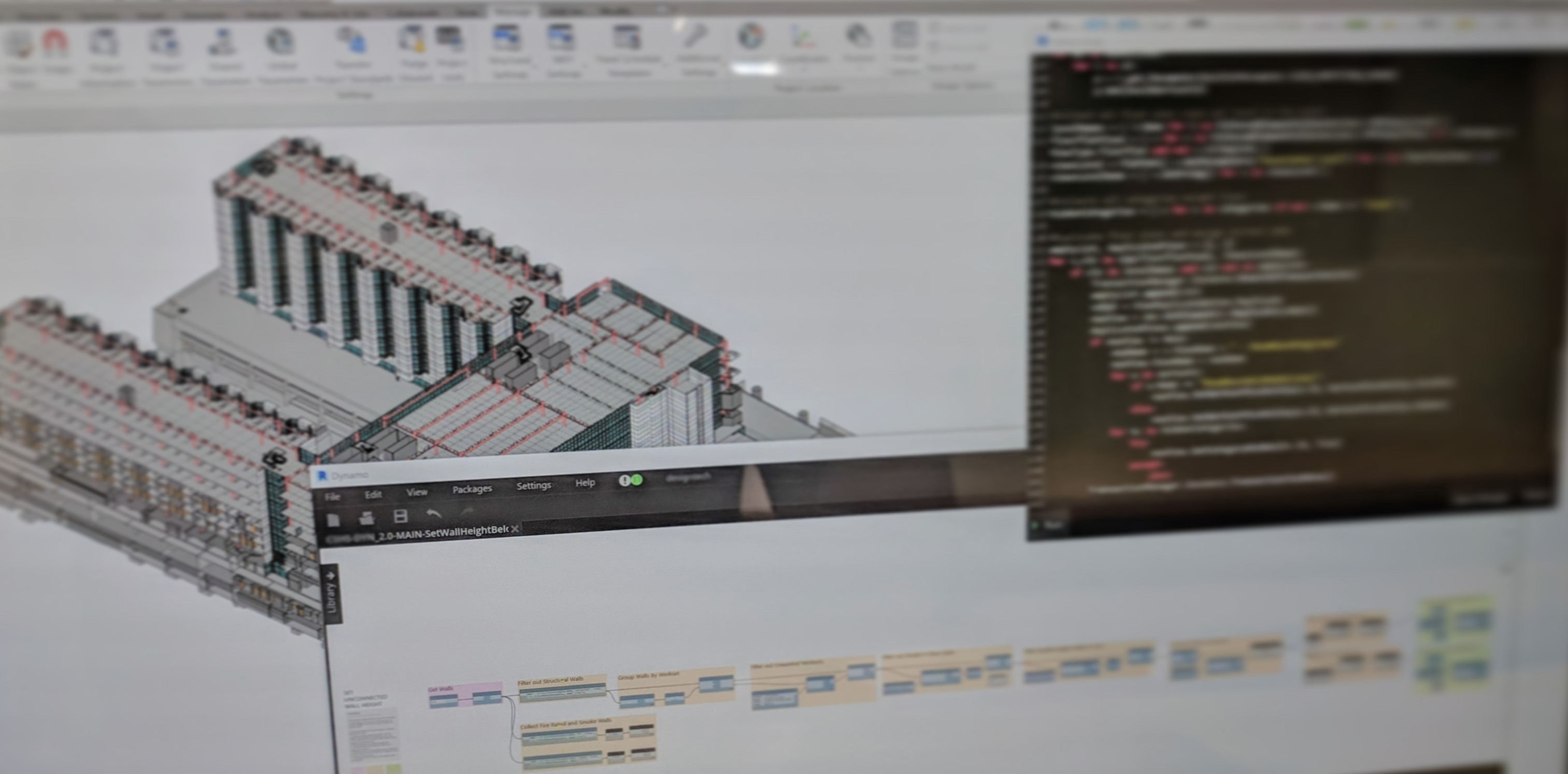 While this undertaking may not seem difficult at first, the time needed to virtualize even one of the buildings was substantial. A vast amount of information must be cross-checked. Drawings from different disciplines (and with different formats) needed to be combined into a single digital model. In cases where drawings were not up to date, site visits had to be arranged to update drawings before they could be added into the new building model.
Success!
By combining the construction, management and engineering experience from the US team with my computational and automation skills, we were able to achieve our objective in a few months time. That is one major advantage of Enstoa's squad structure: teams are made up of small groups of deeply specialized individuals. In my case, I work in a design squad and specialize in building information modeling. The squad I was collaborating with specializes in digital solutions for capital projects.
Before my arrival into the project, the digital solutions squad had done an amazing job gathering and organizing all the client data. They digitized old paper drawings, updated the state of ongoing projects and carried out trips to site as needed. All the data was organized in a way that could be easily accessible for us and the client. They set up the models in the correct real-world coordinates. What remained was essentially to cross-check the data we had and start modeling the buildings with the right information.
There were thousands of square meters to undertake, and that is where I was able to help the team.
Every time we found a manual task that was being repeated several times, I would create a script in Dynamo that saved hundreds of work hours. An example of that was the placement of equipment inside the building - by retrieving the location of every piece of gear from the 2D drawings, I was able to automate their placement with the correct orientation in a few minutes.
Also, due to the fact that the engineering plans from consultants were old and not clearly legible, the placement of MEP conduits in the model became a tedious task. With the help the team's engineering knowledge and my skills in automation, we were able to read CAD drawings from all the building levels at the same time, matching vertical elements that appear in multiple floors and placing conduits across the model in a few clicks.
The (not so) secret ingredient: collaboration
Due to the tight deadline of this project, collaboration became a hugely defining element. The quality and volume of collaboration that took place meant that things just got done.
Now more than ever, I am a firm believer that collaboration is one of the most essential skills of the industry. When teams are able to combine their skills and communicate effectively, regardless of their area of expertise, that's when the best work happens -- and everyone benefits.