HRSD Continues Digital Transformation with Enstoa
Hampton Roads Sanitation District (HRSD) — a water and wastewater treatment utility focused on protecting the public health and waters of Hampton Roads in Virginia — enlisted Enstoa to continue on a digital transformation journey by delivering improvements to HRSD's capital program management processes and tools. 
HRSD operates nine major plants and seven smaller plants across eastern Virginia. As you can imagine, this requires robust project controls and facilities management procedures to ensure they are building appropriate infrastructure, maintaining it to get the most from existing assets, and replacing assets at the right time. The organization's strategic plan has a strong focus on using technology to decrease environmental impact and increase efficiency. As a result, their team had done substantial foundational work before engaging Enstoa to accelerate them further. 
Enstoa Brings A Personalized Solution
Despite already implementing digital tools to automate certain functions, HRSD project teams still struggled to locate relevant documents promptly and discovered numerous data discrepancies across their various digital project management systems, making it hard to rely upon them for decision-making. Consequently, the technology was not providing HRSD the time or cost savings that they anticipated. To rectify these issues, they enlisted Enstoa. The collaboration, which kicked off in February 2019, was no small project. Our team designed a personalized set of systems integrations and implementations to combat HRSD's unique challenges. 
Before we joined forces, the HRSD team had already chosen Oracle's Unifier as its core tool for capital project management. We configured Unifier and integrated it with other project controls tools via Enstoa Adapters to mold Unifier into the one central hub for all of HRSD's project-related tasks: from scheduling, to budgets and document management.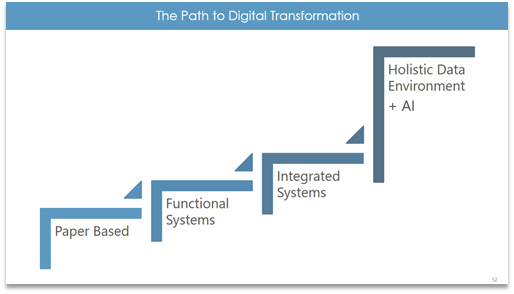 But what good are all these new systems and tools if no one knows how to use them? Or even understands why they should use them? That's where our training and organizational change management teams came in. They trained the HRSD team on how to use the tools and communicated how the tools could make their jobs easier to guarantee high user adoption.
HRSD Sees Big Benefits
The bulk of the project scope went live during the first week of June 2020. The set of solutions empower data-driven decision making and resource management due to real-time visibility into budgets and schedules across the entire HRSD organization. Now, HRSD has a unified set of systems to effectively manage its projects, eliminating the need to chase down information and making it easier to monitor project progress and issues, while efficiently collaborating with vendors.
"The improvements we have recently gone live with are helping us maximize the functionality of our project management application and its connection with our enterprise systems. With the growth of our CIP over the next several years, we now feel that our applications will be a resource to help us and our vendors execute the program as efficiently and effectively as we can," said HRSD's Capital Program Manager, Erin Girardi.
To Be Continued
Our next step is to partner with HRSD on their current multi-billion-dollar SWIFT program. We are excited to continue the digital transformation partnership and look forward to what's to come!
Are you ready to digitally transform your business? 
---
Technical Details
The full engagement included systems integration strategies between Unifier and Oracle E-Business Suite (EBS), Oracle Primavera Unifier configuration, P6 scheduling solution, KPI and project dashboard reporting, training, and organizational change management and communications.
Integrations between Unifier and HRSD's ERP systems run on Enstoa's integration product ⁠— Enstoa Adapters ⁠— and transfer project cost delivery data such as budgets, commitments, and actuals. This data transfer allows HRSD's project team to live and work in Unifier and their finance team to work within their ERP.
In addition to automating point to point system integrations, Enstoa also developed enhanced project dashboards used by project executives to identify areas of risk or areas that require focus, which is made possible with data trending capabilities in Enstoa Panoptra.
For their project scheduling solution, we implemented P6 and set up an integration between P6 and Unifier, allowing HRSD to synthesize capital cost and scheduling data to display project and program level cashflow automatically.