State of Oklahoma Agencies Go Live with Unifier by Leveraging Enstoa's 45-Day Methodology
The State of Oklahoma's Office of Management & Enterprise Services (OMES) engaged Enstoa to lead the configuration and implementation of their new capital projects management system. OMES is a government agency that provides finance, property, human resources, and technology services for all Oklahoma state agencies.
The Oklahoma state government is the second-largest property owner in Oklahoma, with over 88 million square feet of owned office space and about 1 million acres of land. OMES provides agencies with expertise and technology infrastructure for building management, real estate, construction, and fleet services to manage their property portfolio efficiently.
Previously, OMES managed capital projects through a mix of manual emails, spreadsheets, and homegrown software. However, they had started to feel like they were outgrowing their existing solution. They were looking to consolidate multiple departments on one unified system and move from manual emails and spreadsheets to an automated system. To accomplish this, OMES chose Oracle's Primavera Unifier to replace their legacy system. 
OMES Enlists Enstoa for 45-Day Implementation
OMES selected Enstoa as a trusted partner to configure and implement Unifier. At Enstoa – the longest-standing Unifier implementor worldwide – we understand the challenges of a traditional Unifier implementation and developed our 45-Day Out-Of-The-Box (OOTB) implementation methodology to make the process easier. With over 14 years of digital transformation experience for the built environment, Enstoa's bank of OOTB business processes and reports are battle-tested for capital projects across multiple industries.  OMES was excited to tap into Enstoa's expertise and eager to get up and running within just 45 days.
Enstoa Delivers Ready-to-Go Unifier Environment
Within 45 days, Enstoa delivered a fully functioning Unifier environment to OMES, loaded with twelve business processes and six reports. Their Unifier configuration allows all capital project management to take place within the tool, freeing OMES from manually sending emails and updating documents through an automated, unified system.  Now, OMES has one central location where all stakeholders can provide documentation, comment on, approve, and track project requests, contracts, budgets, and more. The 45-Day OOTB deployment enabled OMES to collaborate internally across departments and externally with vendors to make data-driven decisions based on high-quality, automated reports.
"It was really important for us to automate the processes that we were currently spending a lot of time doing manually. Enstoa's 45-Day implementation came with the business processes we needed, locked and loaded for a quick and easy implementation." – Kelly Thompson, Central Operations Manager, OMES.
A Second State of Oklahoma Agency Follows Suit
After the successful go-live for OMES, the Oklahoma Department of Veteran Affairs (ODVA) – another agency under the State of Oklahoma – followed suit with Enstoa's 45-Day implementation. Before engaging with Enstoa, ODVA didn't have any existing processes or software to manage capital projects. They issued project requests on paper. Maintenance workers would write down work orders on a 3"x5" pocket notebook. They managed project status in a word document where an admin would compile all project information and present it to senior management. To fit ODVA's specific needs, Enstoa leveraged OMES's new Unifier environment and added additional business processes and reports for project requests, work orders, and project status.  Their new project management system will allow them to track these processes in one central location across all projects, ensuring all data is up-to-date, accurate, and nothing gets missed because it's lost in someone's notebook.
"The OMES and ODVA teams will benefit greatly from taking their project management to the next level through an online project management system. It is so challenging to track project requests, vendor contracts, and change orders when they are buried in everyone's email inbox. After Enstoa's 45-Day implementation, OMES and ODVA have one system to quickly and easily access this information to make real-time decisions. Their lives just got a lot easier." – Mary Fountain, Associate of Digital Systems, Enstoa.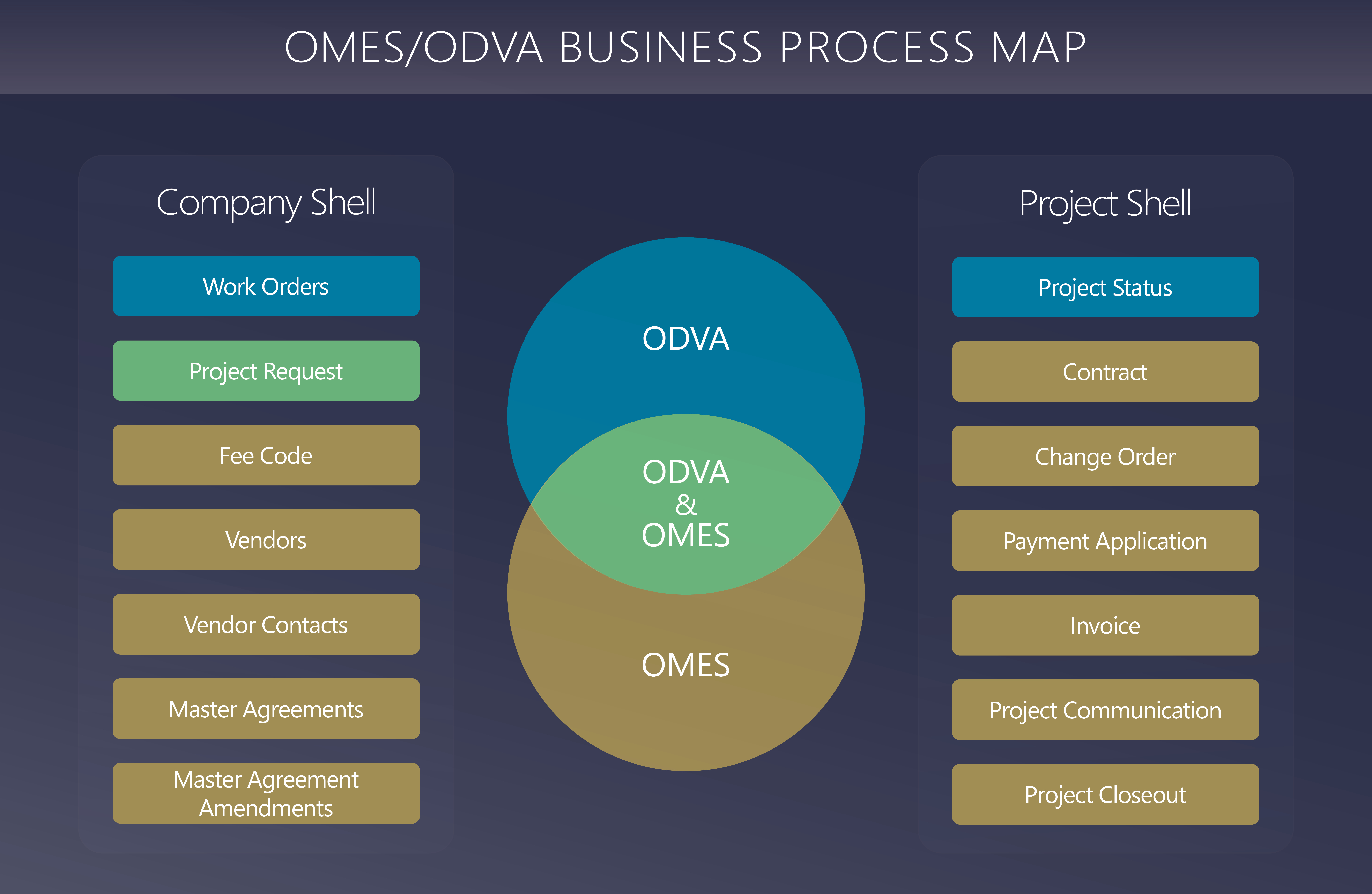 The figure above shows a full map of new Business Processes provided to OMES/ODVA from Enstoa.
The Future is Bright
OMES and ODVA can breathe a sigh of relief, knowing that all of their capital project processes are tracked and managed in one central place. Their teams and vendors are working together efficiently to keep projects on-time and on-budget. Over time, OMES will continue to onboard their other agencies to these new online processes with the end goal of getting all agencies out of email and into their new and improved project management system.
Are you interested in a 45-Day Implementation for your organization?