Spivey Lipsey contributes on Building Forward special report:
This is why virtual reality is transforming construction productivity
Over two centuries ago, German writer Johann Wolfgang von Goethe quipped that "Few people have the imagination for reality."
Maybe that's why virtual and augmented reality technologies, which allow people to see structures and spaces before they're built, are making significant inroads into the construction industry today.
According to the American Institute of Architects, 67% of large architecture firms are now using virtual reality (VR), which immerses a user in a completely artificial 3D environment of a design. About 25% of midsized firms have deployed VR, with 16% of all firms leveraging this technology. Adoption of augmented reality (AR), which overlays computer images on the real world, such as steel beams transposed onto a construction site before they're actually put in place, is less mature but is also in use today. Construction pros say the wider proliferation of these applications in construction's rapidly expanding technology stack is now only a matter of time.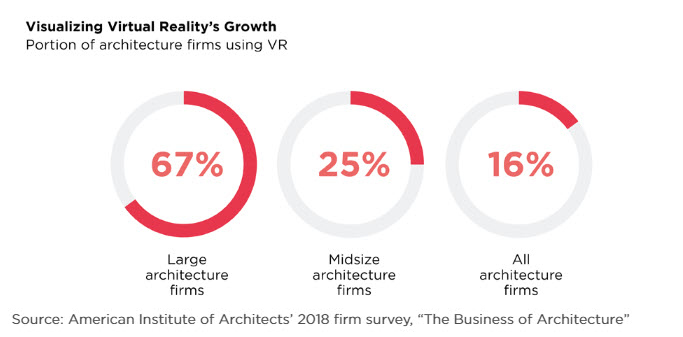 The reason why is stunningly straightforward and, going back to Goethe's observation, also profoundly disruptive: VR and AR eliminate the need for clients—or anyone—to imagine a design at all.
"If you're designing something, imagination is great," says Peter Marchese, senior technical evangelist at Nashua, N.H.-based design software consultancy Microdesk. "But if I'm trying to explain something to somebody, I don't want them to imagine it. I want them to understand it. The best way to do that is for them to see it."
Says Jonathan Bartling, director of digital practice for Minneapolis-based design firm HGA, "It's all about show, don't tell. VR and AR allow you to do exactly that."
D.J. Smith, co-founder of New York-based VR and AR firm the Glimpse Group, says the technology conjures instant insight into projects unlike anything else. "Virtual and augmented reality experiences are simple, quick, and effective in showing users a view that was impossible before the technology existed," Smith says. "This technology represents a fundamental shift in how we view and consume data."
VR offers a more immersive mock-up for clients, well before construction begins.
To date, VR presentations to clients for proposed designs, via wearable headsets or on computers or mobile devices, have represented the lion's share of the technology's adoption in construction.
"It allows us to immerse clients directly into the virtual environment so they walk through the completed space before construction even begins," says Chris Mayer, chief innovation officer at Boston-based Suffolk Construction. "It lets them easily visualize the space, but they can also make changes or call out any design issues a lot earlier in the process, when it costs less."
For firms that are already using 3D building information modeling (BIM), the ancillary costs to generate virtual mock-ups are exceedingly cheap. Design and construction pros say a pair of VR goggles and a computer with a graphics card that's powerful enough to run them can be had for less than $2,000.
At HGA, Bartling outfitted a physician client who was having trouble envisioning the design for her new office with an HTC Vive virtual reality headset. Doing so allowed her to walk through the space firsthand and give HGA feedback on changes to improve her future workflow.
"These tools are helping the clients we serve understand their buildings better," Bartling says. "She was immediately able to give us feedback that was so much more on point than if she was just looking at a plan set or even a rendering. It helps clients and decision-makers understand the project through the lens of how they're going to occupy the space."
VR isn't just for client presentations.
But while virtual client presentations and marketing mock-ups have been essential for VR's uptake by design and construction firms, the technology is also starting to make inroads into the field itself. This is particularly true when it comes to helping crews understand the sequencing of how a job is supposed to come together and the order through which materials need to be installed.
For example, while working with a large contractor in the U.K. on an electrical substation, using nothing but iPads on-site, New York-based systems integrator Enstoa was able to leverage a virtual animation to show workers exactly how materials should be offloaded from the truck and where they would be placed.
"We had these big steel girders and columns that needed to be lifted into place that were packed and loaded on the trucks in a particular sequence," says Spivey Lipsey, BIM specialist at Enstoa. "We were able to show that portion of the job to the guys on the ground in a 30-second clip instead of them having to figure their way through a 30-page document."
Producing that animation had another benefit as well: It ensured that the construction supervisor's staging and planning assumptions were on track and that each task could be carried out within the physical perimeter of the site. "They were building in and around existing infrastructure, so it was important to make sure the clearances were accurate and that the swing arm of the crane wasn't going to overlap what was already there," Lipsey says. "Details like that are a lot easier to see in an animation than in documentation or 2D plans."
Less-experienced trades can use VR to grasp project steps more quickly.
Having that kind of virtual run-through also allows less experienced workers to visualize how a job is supposed to come together. "It's just far more intuitive, especially for guys who are new in the field," Lipsey says. "If that's their third or fourth job, as opposed to their hundredth, they're going to have a far easier time looking at AR and VR than trying to wrap their brain around some complex documentation."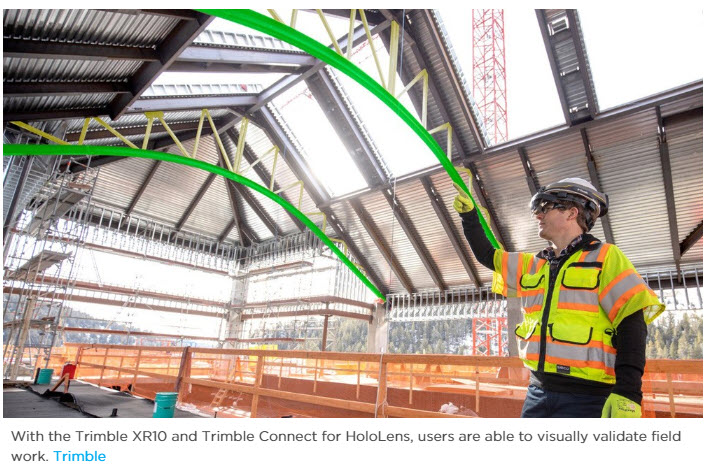 At Sunnyvale, Calif.-based construction technology firm Trimble, the potential to address construction's endemic labor shortage is one of the most tantalizing aspects of the technology. Trimble's XR10 headset attaches to a hard hat and leverages Microsoft's forthcoming HoloLens 2 "mixed reality" visor, the term used for AR applications that allow users to manipulate virtual and real objects simultaneously.
"Today, it comes down to the fact that with the workforce challenges the industry is facing, having skilled labor on every project isn't always possible," says Jordan Lawver, Trimble Buildings Division's mixed reality portfolio manager. "Sometimes people get on-site where they need to build something, but they don't know how. This is a way for them to visualize the workflow and how to assemble the components so the job's done right."
(The XR10 with HoloLens 2, due out later this year, is priced at $4,750, while the Trimble Connect software that runs it will go for around $1,000.)
Indeed, the potential to leverage VR for training in the trades has already proven itself out. According to a study from Iowa State University, welder trainees who were exposed to virtual reality training finished more welds, had a 41% higher certification rate, and completed training 23% faster than a group that went through a traditional welding certification course without the use of VR.
VR can help contractors prepare more accurate bids in less time.
One of VR's other big advantages for construction pros is eliminating the need to revisit a site to measure it again after an initial assessment has been made. For example, at Dallas-based design firm Corgan, senior associate and project manager Monica Sosa created a virtual replica of 18,000 square feet of space at the Midfield Satellite Concourse under construction at Los Angeles International Airport.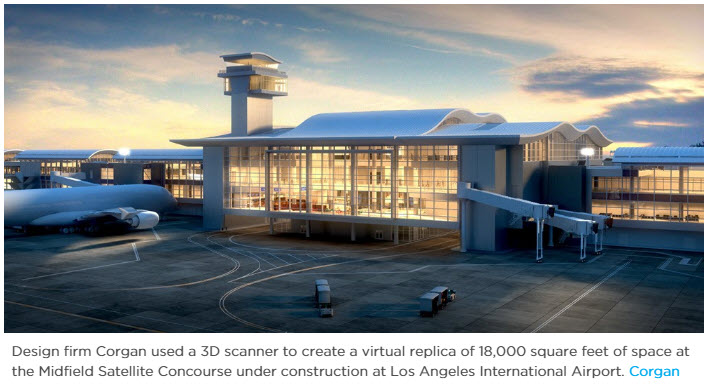 Using a Pro2 3D scanner from Sunnyvale, Calif.-based Matterport, she completed 50 scans of the site in an hour and had a complete set of immersive plans at her fingertips that she could share with anyone else working on the project. The firm then used "Mattertags," which act as a kind of virtual blue tape within the model, to flag any unresolved or outstanding items.
"The Matterport scanner saved us from having to make multiple trips to the site to check on existing conditions," Sosa says. "But on top of that, we were able to share those jobsite scans with remote consultants, which saved us a lot of time and resources."
Tomer Poran, Matterport's director of business development, says having access to that kind of immersive content gives contractors a leg up before they even submit a bid for a project and a head start preparing for a job once they have it. That's why some contractors—like Suffolk—are adopting VR themselves, even when other stakeholders haven't. It allows them to submit better bids and show clients they've done their homework, long before groundbreaking.
"A general contractor spends a lot of time walking around the site to understand the space, but with 3D scans, they can conduct site walks virtually and prepare more accurate bids in less time," Poran says. "This technology specifically allows people to explore 3D models in VR, on a desktop, or even on a mobile device. That means construction teams can share and refer to the conditions they're going to be working in before they're physically there and prepare accordingly. It helps them show up with the right tools for the job and avoid on-site delays."
Augmented reality sets design firms apart.
Augmented reality, for its part, is also helping firms work more efficiently and win more business. At U.K.-based engineering consultancy MLM Group, CAD technician Dinos Ipiotis was able to use the augmented reality toolkit from Tel Aviv-based WakingApp to create a 3D mockup of 2D plans for his client's parking garage project.
When a user snaps an embedded QR code printed on a set of 2D plans with a mobile device, WakingApp generates a 3D model of those plans. The viewer can see it transposed on top of the drawing through screen and camera, in effect bringing the structure into relief right before their eyes.
"Not all clients know how to read plans," Ipiotis says. "We use the augmented reality model to communicate with the client, with the engineer, and with people on site to minimize errors." Doing so with one client even helped him win more business. "They were impressed that we took the time to create that augmented reality model for their project, so they asked us to work on another part of the project that we weren't originally included in," Ipiotis says.
Plug-in tools will generate virtual and augmented reality mock-ups more quickly.
One aspect that has held augmented reality back from wider adoption in construction to date is the need, typically, to create custom coding to overlay specific images on screen captures of the real world. But WakingApp enables users to create augmented reality from their own plans, without coding. They can use it while looking at plans at the office or on-site, where they have a 3D projection in front of them as they look at the physical properties of the space in the real world.
"Augmented reality has been around for some time, but it's really just in the last three years or so that we're actually seeing people picking it up and using it in practical ways in the field," says Matan Libis, CEO of WakingApp. "If you're creating something in 3D today, this is just the next evolution. It's not very far from here that other design programs like Autodesk will integrate AR as native to their software."
Indeed, today, plug-ins like Enscape already allow designers to generate VR mock-ups from their 3D BIM designs with just a few clicks inside Revit.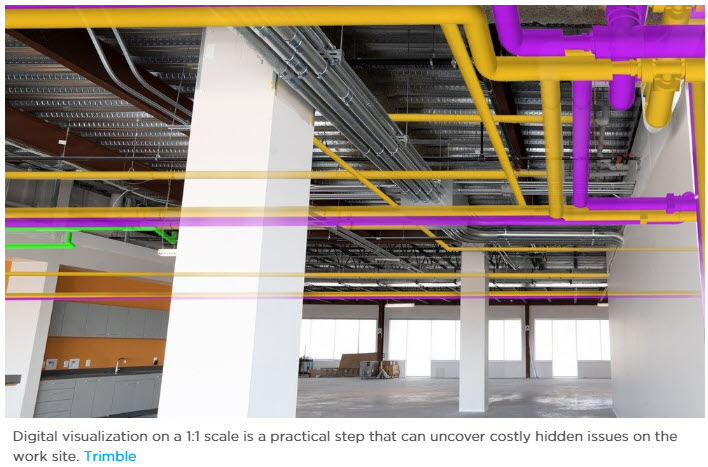 The human interface remains a stumbling block.
While the adoption and promise of using VR and AR in construction are clearly evident, with costs that are negligible compared to overall project budgets, the technology does still have detractors, including clients who don't always immediately grasp its benefits.
"It can be challenging to get buy-in," says Suffolk's Mayer. "Since these technologies are new, you sometimes have to convince clients it's worth the upfront investment. But once people experience the technology for themselves and compare it to the old way of planning and managing projects, they come around quickly."
Another hurdle is getting people in the industry to use the equipment itself.
"Putting on a headset that's not your own can be kind of gross," says Cody Novak, founder of Los Angeles-based mixed reality consultancy DisruptAEC. "If a bunch of people have put it on before you, it's going to be greasy or caked with makeup."
Some users suffer from motion sickness while donning the gear, while others become self-conscious or concerned about their appearance or messing up their hair. For augmented reality, "drift," or the tendency for overlaid images to not stay within construction tolerances, has also been an issue, though the forthcoming HoloLens 2 is expected to address that challenge.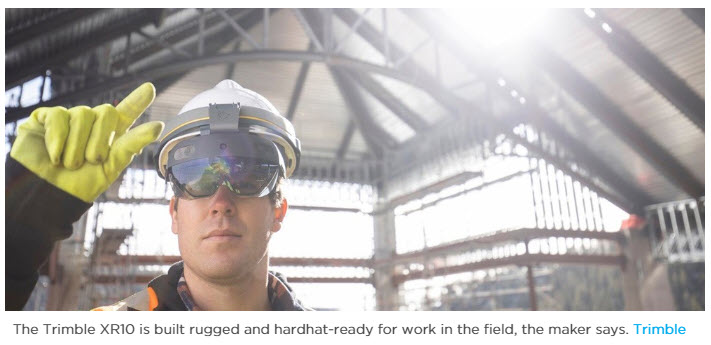 Then there's the potential for what on-site coworkers might do to someone else who's essentially blindfolded in their midst. "The construction guys like to joke around and do funny stuff once their peers put on a headset," Novak says.
Having a plan makes implementing virtual reality more productive.
Joking aside, pros who are leveraging AR and VR today say best practices for overcoming the technology's challenges include segmenting the amount of model data that's loaded into a presentation so it doesn't come across as choppy.
"You try to make things as light as possible. I'll just put together a smaller segment of the project and show the client one section at a time," says MLM Group's Ipiotis, who notes that it's often a user's smart phone, and not necessarily the augmented reality software, that can become overpowered.
At the Glimpse Group, Smith has time-honored advice for demos and presentations using mixed reality: "Keep it simple," he says.
And as with other technologies that construction companies are rapidly adopting, such as drones, observers advise having a clear sense of purpose and a goal in mind when using it.
"VR is changing gears from being a consumer product to an important technology for enterprises, but organizations should be open to exploring the possibilities of VR without losing sight of the practicalities," says Burcin Kaplanoglu, executive director, innovation, at Redwood City, Calif.-based software giant Oracle. "There must be a clear benefit, such as reduced costs or a specific problem that it solves."
Or as Marchese says at Microdesk, "Have a goal in mind before you jump into it."
With more firms adopting VR and AR tools in the construction industry, the need to imagine projects in the future may disappear, as the real thing—or a virtual representation of it—appears right before our eyes.