February 2020 Newsletter: Enstoa Selected as Oracle 2020 Global Events Platinum Sponsor
This post originally appeared in our email newsletter. To subscribe to our newsletter and start seeing content like this directly in your inbox, click here.

We're thrilled to announce Oracle has officially selected Enstoa as a Platinum Sponsor for their Construction & Engineering 2020 Global Event Series. The sponsorship leads to significant involvement in four Oracle events across the world. We started strong with the first event this month in Melbourne and look forward to more exciting things to come.
What's up next? Join us at Oracle Future of Projects Conference in Philadelphia on March 31st. Click here to learn more
---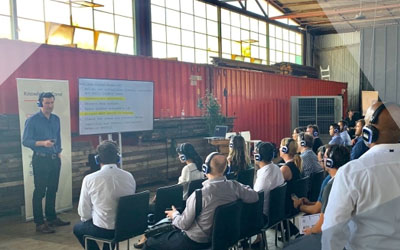 CEO Jordan Cram Speaks at Oracle Construction Technology Summit
We had a great time in Melbourne, Australia for Oracle's Construction Technology Summit. At our booth, the Enstoa team led discussions on machine learning and gave a sneak peek of our upcoming Aconex automation tool. Later in the afternoon, Jordan Cram presented 'The future company and how to get there' to an engaged audience on the Knowledge Zone Stage. 
In this article, we share more information about our presentations, highlights from the event, and extend a huge thank you to the Oracle team for a great event.
See our takeaways from the event
---

Enstoa Brings Big Players Together for Health Facilities Data Standards
Enstoa pulled together an impressive group of healthcare facilities leaders in NYC this month to discuss Facilities Data Standards. Participants came from a wide range of major healthcare organizations such as NewYork–Presbyterian Hospital, Atrium Health, Memorial Sloan Kettering, National Institutes of Health, Yale New Haven Health, and St. Joseph's. The all-day forum resulted in several action items that will continue to foster collaboration; all with the goal of creating industry-wide standards in Maintenance, Operations & Space Management.
Contact us to learn more or get involved.
---
Sending Support to Our Team & Friends in China
The Enstoa team is thinking about all of our team members, friends and partners in China. We wish good health and swift recoveries for all of those affected by Coronavirus and their loved ones.
---
Upcoming Events
Saudi Future Projects Forum: Riyadh, KSA; February 25, 2020
American Society of Healthcare Engineers - PDC Summit: San Antonio, USA; March 23 - 25, 2020
Oracle Future of Projects US: Philadelphia, USA; March 31, 2020
BIM World 2020: Paris, France; March 31, 2020
FGI Health Guidelines Revision Committee: St. Louis, USA; April 1 - 2, 2020
Oracle Future of Projects Asia: Beijing, China; Date TBD
Oracle Future of Projects EMEA: London, UK; Date TBD
 
This content originally appeared in our email newsletter.