Enstoa rebrands and launches new web site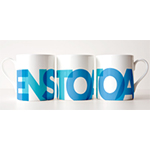 Capital projects IT consultant, Enstoa Inc., unveiled today its new brand and website created to foster high levels of connection with the project management community. The new brand communicates the qualities of innovation, transparency, and simplicity that Enstoa brings to project controls information management.
"Customer interviews and an introspective analysis of our firm's vision and values drove the design of the new Enstoa identity," said Jordan Cram, President of Enstoa. "We landed on a mark that exemplifies our goal to help customers achieve their ideal outcomes for project controls information systems. It is our platform for communication supporting our commitment to customers, staff, and partners."
Enstoa also launched a new website to extend the new brand online and improve information about the company and its services. The new website will be the portal to a growing library of video tutorials and project management system utilities. It will ultimately serve as a platform for Enstoa to engage the community in a conversation about the practice of project management and the rapidly advancing technologies affecting project controls.
The website also highlights the company's innovative 90-Day Sprint methodology. The Sprint arose from Enstoa's experience to deploy user-centric solutions aligned with current and future business imperatives. Enstoa delivers value right away by breaking down large projects into 90-day Sprints. The results of each Sprint are put into practice immediately and can be used to evaluate future work.