Can construction be disruptive?: CEO Jordan Cram defends holistic data structures on Building Forward
The numbers are downright depressing
McKinsey says that while sectors such as manufacturing, retail, and agriculture in the United States have increased productivity 1,500% since 1945, construction is still where it was 80 years ago. The trend led the global consulting firm to conclude that construction has an "intractable productivity problem" while identifying the sector as the second-least digitized industry in the United States.
Meanwhile, promising areas within construction are still nascent: Modular construction, for example, accounted for just 3.27% of construction spend in the United States in 2017, according to the Modular Building Institute.
But the numbers also shine a light on a massive opportunity. Indeed, McKinsey estimates that globally, if construction productivity were to catch up with other industries, it would add $1.6 trillion a year to the world economy, with one-third coming from the United States. That outsized potential has led a raft of firms, such as Procore, PlanGrid, Triax Technologies, Rhumbix, Entekra, Katerra, and others, backed by Silicon Valley-style venture capital, to stitch a bullseye on construction's back as a prime target for disruption.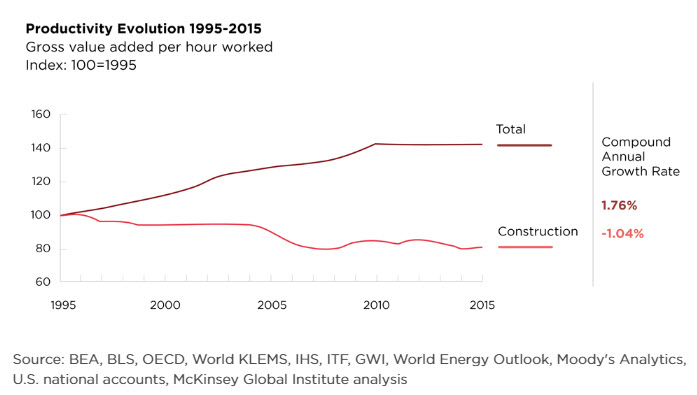 It's easy to see why. As a $1.2 trillion industry in the United States alone that represents 4.3% of GDP, even small improvements could provide big gains. And yet, given construction's track record—in the U.S., productivity has actually declined since the 1960s—whether real change is even possible is open to debate.
"The jury is still out on whether construction can be disrupted," says Ryan E. Smith, director and professor of Washington State University's School of Design + Construction and one of the industry's foremost experts on modular construction. "We are still not at a place where I would consider modular being a disruptor. Even if you look at a company like Katerra coming along, I don't see them disrupting construction yet."
That outlook from within the industry, paired with the trend of venture capital and technology attacking the problem from the outside, raises an essential question: Can the U.S. construction industry be disrupted? Many smart people inside and outside the industry think the answer is yes. But the hows and whys behind their thinking focus just as much on the fundamental structure of the industry itself as they do on the technology aimed at shaking its foundation. These disrupters say the lack of software and technology on jobsites has indeed played a part. But construction's approach to tackling projects, with each specialized trade doing its own job in a vacuum, is a big culprit, too.
All of them say both issues are rapidly changing today.
A fragmented industry is more resistant to disruption
It's impossible to talk about the disruption of the U.S. construction industry without first looking at the fragmentation of the sector itself. According to the Bureau of Labor Statistics, there were 815,314 non-government construction "establishments"—or workplaces—in the U.S. during the 3rd quarter of 2018, the most recent period for which data is available. Compare that to manufacturing, with 352,026 establishments, or the information sector, which has had the biggest productivity gains in recent decades, with just 172,384 establishments. Given those numbers, the heart of the disruption question lies not in the use of technology but instead in the hierarchy and silos within the industry itself.
"Construction is a trillion-dollar industry," says Ash Awad, chief market officer for Seattle-based design-build-operate firm McKinstry. "But there isn't one major player, or even a group of major players, that make up the majority of those dollars. So the reality is, in a trillion dollar industry, no one company can ever do enough to make a measurable impact on productivity."
For example, he points out, general contractors are considered big when they hit the $1 billion mark in annual contracts; subcontractors at $100 million. And on the residential side, the top 10 public homebuilders had only a quarter of new single-family closings in 2017. "The question of what's currently going on is how we'll see the manifestation of these different disruptions in an industry that is remarkably fragmented," Awad says.
With mobile access, disruption could be in the hands of workers on-site
The shape of any industry disruption will be based, in part, on how technology is used in the construction stack— from the bottom up or the top down. For example, talk to cloud-based software maker Procore, which puts scheduling, project management, and punch list technology in the hands (via a smart phone) of workers on-site, and the answer is to embed technology with the boots on the ground.
"I see it pretty simply: It's bottoms up," says Craig "Tooey" Courtemanche, CEO of the Carpinteria, Calif.-based firm. "Our focus has always been on the field staff first."
Indeed, Courtemanche points to the jobsite environment as one of the main impediments to construction's productivity gains so far. Whereas office workers had widespread access to computers and email from the mid-1990s on, the first iPhone didn't come out until 2007 and widespread, reliable internet access wasn't available on jobsites until 2012. "The reason I know that is because 2012 is really where our growth rate turned the corner and took off," Courtemanche says. "We needed to have high-speed internet bandwidth at the jobsite in order to make a web-based construction software solution feasible."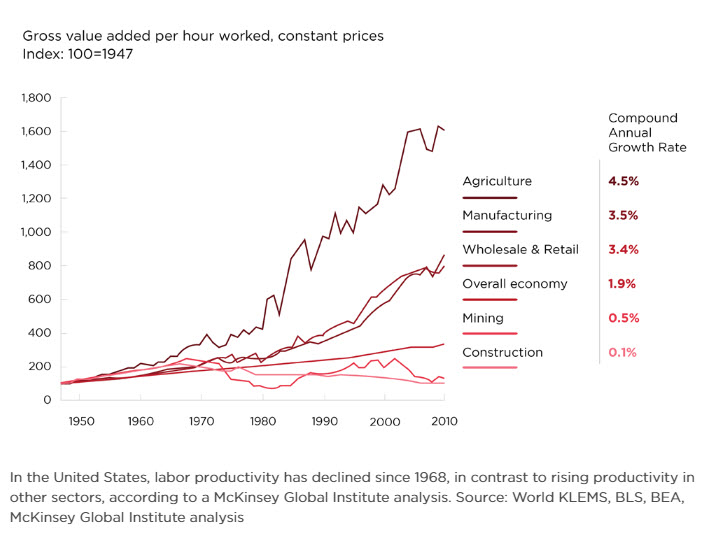 The company now claims 30% of U.S. construction volume runs through its app. It has now amassed more than 6,500 customers on its platform, and millions of users, to grow revenue to $200 million. The company is getting ready to file for an IPO in 2019, according to Forbes. With those numbers, to Courtemanche, disruption is not only possible, it's already started. "We're at the very beginning of an explosive change in construction where technology is becoming ubiquitous," Courtemanche says.
At San Francisco-based Rhumbix, a cloud-based construction software app that uses geolocation to track workers' hours on-site and helps eliminate paper-based record keeping, Chief Operation Officer Drew DeWalt says cracking construction's mobile code has been critical for adoption.
"Five years ago, we had to bring a freezer bag of burner phones to the jobsite, just so that people could use the technology, because smart phones weren't yet issued as work tools," DeWalt says. "Now, they're standard. Construction workers are the most aggressively mobile workforce there is."
DeWalt points out the current crop of construction apps aimed at field workers is fundamentally different from software that's been used in the past. "A lot of the software that's been used in construction to this point, like scheduling and budgeting, was almost impossible to use unless you were sitting at a desk, working inside [the software] every day," DeWalt says. "A lot of that core technology hasn't been accessible to 90% of the contractor community. That's starting to change."
At Boston-based Trade Hounds, a social media platform that's an Instagram-like app for construction workers to showcase their work, co-founder and CFO Peter Maglathlin also says disruption has to start from the ground up. "The way to truly disrupt the industry is to build something that is designed for the worker as end user to adopt on their own, as opposed to the boss," says Maglathlin, who notes that Trade Hounds, which went live in late 2018 with $1.5 million in seed funding from both venture capital and construction firms, has been able to amass 30,000 "blue collar" users in three months. "There's a lot of great construction software that's been built with management in mind, but part of the problem with adoption is it's sold to management, the workers are told to use it, and they don't."
Any disruptive technology needs to become part of an overarching strategy
But while putting technology in the hands of workers on-site is critical, others say bridging construction's productivity gap is such a Sisyphean task that attacking it from the bottom will only lead to more fragmentation.
"My gripe with the huge wave of startups coming into the industry is they're all just attacking one small piece, and they tend to pick off those pieces from the jobsite," says Jordan Cram, CEO of New York-based Enstoa, a systems integrator for capital projects worldwide. "Our view is those attempts are falling into the trap of being fragmented all over again. Any productivity gains they achieve get erased because it's never a part of an overarching strategy."
Instead, Cram, who worked in the field as a construction project engineer before earning an MBA from Columbia University Business School and launching Enstoa, targets a top-down approach. He focuses on the C-level of executives to infuse technology throughout an organization and integrate functions and job roles.
"Our commitment is to attack the problem from the very top to create holistic, connected data structures," Cram says. "It just won't work if everybody's hitting singles. You've got to swing for the fences. It's the least risky approach."
For example, Cram says, the different areas of cost, scheduling, design, and procurement on any given project need to be aligned and coordinated to operate together. "But those four functions exist in silos, and the professionals who work within them exist in different tribes," Cram says. "They're very bright people, but they lack the ability to see the project through the lens of their counterparts. The scheduler doesn't understand what the controller does, or why."
Real disruption involves culture change
Cram says that by taking down those divisions, he's aiming to eliminate 8% of a contractor's costs. "That would basically double their profit margins," he says. But he thinks the construction industry hasn't been able to achieve more noticeable productivity gains because decision makers haven't embraced a new way of doing things. "Culture is really the thing that has to be dealt with first," Cram says.
Cram isn't alone in that culture-first approach. For construction law attorney Michael Vardaro, a managing partner at New York-based law firm Zetlin & De Chiara who worked on-site in the industry as an engineer, the key to disrupting construction is using technology to change how people work together.
"Part of embracing technology is embracing a new type of relationship amongst the participants in a construction project," Vardaro says. "In projects where that's actually happened, it has worked great."
He points to a job he recently worked on for a client in New York City. "The subs and contractors worked hand in hand to put their own shop drawings and designs into the overall, 3-D BIM model," Vardaro says. "It was a huge help for that project."
Combining technology and collaboration can help reinvent project design and delivery
From that perspective, it's ultimately the combination of leveraging technology and bringing disparate roles together that will lead to real disruption. For instance, with the emergence of building information modeling (BIM) over the last 15 years, the way projects get bid and completed today has already fundamentally evolved. No longer is the "hard bid" method, where an owner puts out an RFP and chooses the lowest bidder, the exclusive way to go to market.
Instead, the use of BIM has led to the rise of the "design-assist" method, where owners, designers, and subcontractors come together before a project even starts to define exactly what needs to get done.
"Design-assist brings all the stakeholders together during the engineering stage to solve problems early on," says Dave Barrows, project manager at Detroit-based Midwest Steel. "You're going to bring in the concrete, the steel, the electrical, and the piping contractors and put their models into the overall BIM model. Effectively, you build the job before you're even awarded the bid."
Using that process helped avoid more than 200 clashes between structural steel and precast concrete on Detroit's Little Caesar's Arena, where Midwest Steel placed more than 9,500 tons of steel during its $50 million contract. "If those 200 clashes had to be fixed in the field, it would have added two months to the job. That's money and time," Barrows says.
At Ripon, Calif.-based Entekra, a fully integrated off-site solution and automated residential framing firm, that kind of group approach, which gathers input from trades early on, has been critical to shaving more than 30 days off a typical production builder's 95-day cycle time. Gerald McCaughey, the firm's Irish-born CEO who watched offsite construction develop in Europe over the last three decades, says bringing more trades together is the only path to disruption on this side of the Atlantic, too. "The thing that is most lacking in U.S. residential construction is collaboration," McCaughey says. "The silo mentality is still very strong."
The Amazon of construction might not exist—yet
Along with the adoption of Lean construction methods, which bring on-site workers together before work begins to map out a detailed schedule and punch list, the rise of design-assist has been credited with bringing in projects on time and at budget. Paired with the trend of stakeholders using technology to share more information between silos already, it raises a question about a fundamental aspect of building in the United States.
Namely, if the construction industry has been getting results from processes that bring different people together on a project earlier and technology that allows them to share information more easily, isn't the logical conclusion of that evolution to port more of the functions and specialties within construction together under one roof?
"You would think there would be an institutional company that's like the Amazon of construction, where they do it all in-house, and it's all one company," says Julie Negovan, of counsel at Philadelphia-based Griesing Law, a construction lawyer who says she sees the worst of construction's disconnects via litigation. "As it is, from my perspective, no particular group, whether it's the owners or the designers or the construction managers or the general contractors, will take ultimate responsibility for any part of the project."
Of course, if any single company could make a disruption dent and bring more of construction's fragmented processes under one roof, it might be someone like Katerra, the Silicon Valley modular construction juggernaut that just closed another $700 million in funding from Japan's Soft Bank to achieve a $4 billion valuation.
"Ideally, we would like to do as much of the work as we can in-house. That's just the most efficient way to do it," says Craig Curtis, Katerra's head of architecture. "When you compare modular to most other manufacturing in terms of a vertical supply chain, factory fabrication, and using robotics for more accuracy with building materials and manufactured assemblies, that's how almost everything else is made. We're just finally bringing that to this industry."
But modular has had its own challenges, from lack of meaningful adoption to high-profile accidents such as the fatal 2003 Tropicana parking garage collapse in Atlantic City and the acrimonious completion of Brooklyn's B2 tower, which served as a model of how not to partner on a high-profile project. Beyond those setbacks, pros within the modular sector say one of its biggest challenges is a tendency to replicate the traditional, fragmented construction model—and not the automated vision Curtis describes—inside the factory walls.
"From a technology perspective, I think we're approaching modular in the wrong way," says Grant Geiger, CEO of New York-based EIR Healthcare, which builds modular hospital rooms. "In this country, in many cases all we've done is take what we're doing on the construction site and simply moved it indoors. That doesn't actually improve anything. What we really need to do is improve the manufacturing process itself."
That's one more area within construction that's ripe for disruption.