Autodesk University London 2019
In June, we had the pleasure of participating in AU London 2019, a conference that brings together professionals from the converging worlds of design, engineering, construction, manufacturing and digital arts. Over the course of two eventful days, the best in the business came together to share technical knowledge, solve unique business challenges, and gain a deeper understanding of cross-industry opportunities.
On the first day of the conference, Enstoa's own Radu Gidei and Mark Thorley led a discussion titled Building a generative design product – From dynamo prototype to cloud. During the discussion, Radu and Mark shared the benefits of building prototypes and proofs-of-concept to validate client ideas and took a deep dive into how they built a cloud-native generative design product that makes it easy for non-technical users to operate. Their talk was well received by conference attendees and got positive feedback on social media.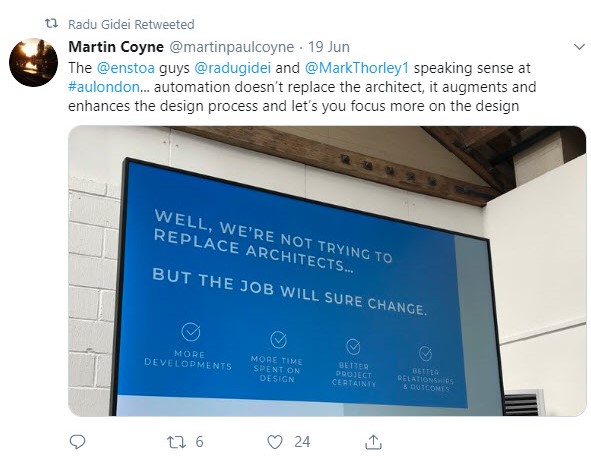 Overall, the Enstoa team had a great experience at the event, and Enstoa even received a special mention during the keynote address for our generative design work. We look forward to attending AU London again in 2020!
To learn more about our work in generative design contact us.